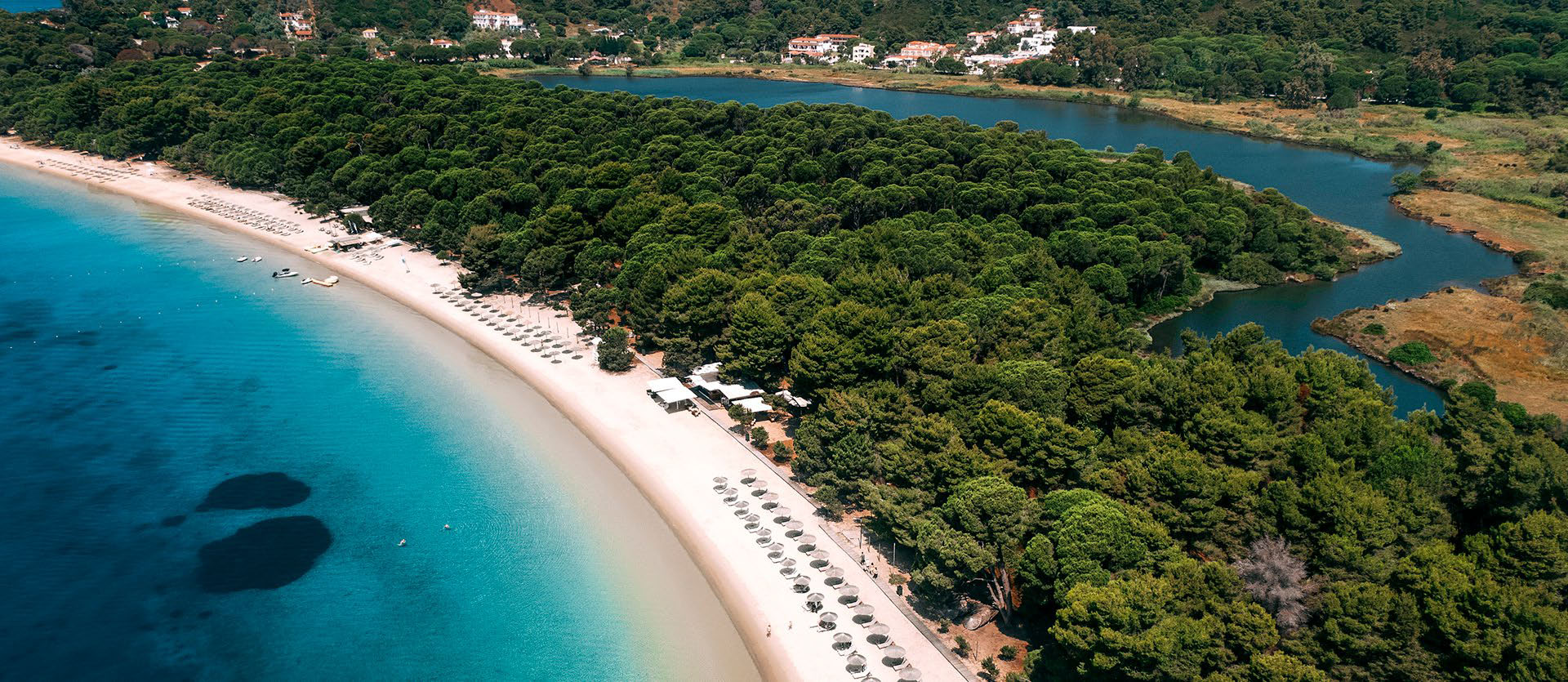 Blue Flag
The "Blue Flag" is an international symbol of quality awarded to organised beaches and marinas who meet 33 stringent criteria relating amongst others to exceptional swimming water quality, cleanliness, environmental education/ information/ management, protection of the beach and coastal area environment as well as safety of swimmers and visitors.
According to the current Regulation, to nominate a beach for
the acquisition of a Blue Flag, a year must have passed during
which the candidate beach will meet the awarding criteria in
full and, after the committee responsible verifies that that's
indeed the case, next year it can be awarded a "Blue Flag".

The Hellenic Society for the Protection of Nature (HSPN)
is the National Operator of the "Blue Flag" International
Program in Greece. This year 545 coasts, 16 marinas and 6
tourism boats received the award. Greece is in the 2nd place
worldwide among 49 countries. Of the 11 beaches with Blue
Flags in Sporades, 10 belong to Skiathos.

For 2020, the Municipality of Skiathos had been awarded
with two Blue Flags for Koukounaries and Maratha beaches
respectively. In May 2021, Skiathos was awarded 10 Blue
Flags for the beaches Koukounaries, Maratha, Megali
Ammos, Vasilias, Achladies, Tzaneria, Vromolimnos, Agia
Paraskevi, Troulos and Kanapitsa. The ten Blue Flags to fly
off the beaches of Skiathos signify the exceptional quality of
the waters and the high level of services offered, ensuring
through cleanliness and hygiene criteria the protection of
Public Health and the Environment.

The "Blue Flag" is the most popular and internationally
recognised ecological symbol of quality in the world. HSPN
emphasizes the particular importance of this year's record
number of Blue Flags for Greece in part because it coincides
with the events to celebrate the -70year anniversary of HSPN,
the oldest NGO in our country for the protection of the
natural environment.